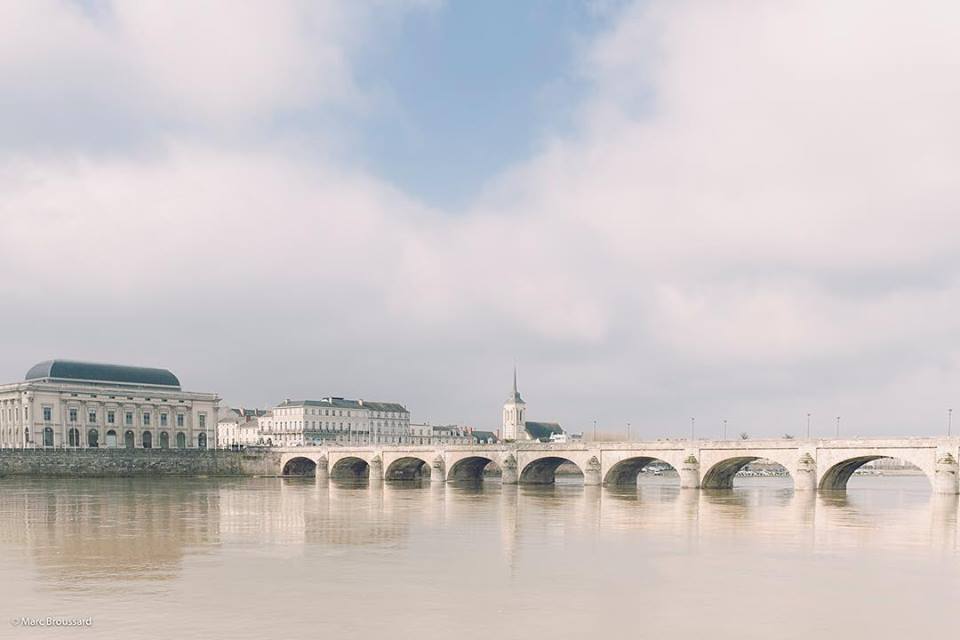 Superb Article in Loire Valley Magazine (www.loiremag.com)
24H at the hotel Saint-Pierre ...
to the right of God and near the Castle of Saumur.
Text: Catherine Taralon
Photos: Marc Broussard
December 2017
Now ... or later, we reserve in city!
Custom made! 24H at St-Pierre at the right of God and near the Château de Saumur.
At this address, no magnetic card with entrance fee.
The human will be there day and night, 365 days out of 365. Place to conviviality.
Yes, it exists in hotels. We know, for having seen or read, the stages of luxury abound on the planet, and soon on Mars, but this is not our cup of tea.
We opted for tailor-made, human dimensions. "As one would like when one is tired, and that one wants to quickly settle in his room, or to fall into an armchair". Without thinking of where to park your car, the code of the front door ... Where to go for dinner? What to visit? A little, a lot, passionately. Each at his own pace, his style. Let go.
Arrival at the station: Just ask, Regis, the owner of the Hotel, will be your driver. Chic, charming, modern smile in his life, he watches over "service more". You want to visit the surroundings of Saumur ... Another castle of the Loire please. Enjoy your weekend well settled in a comfortable car, but not the style "incognito smoked windows".
Located in the center of the old town, historic district. To this day, the favorite walk of tourists. Everything is beige white, radiant tufa stone. We push the door, immediately we understand the atmosphere. The decoration in the air of time that combines charm and elegance.
This was their private side. So the owners opted to open everything to the customers. 100% sharing. In the summer, everything is as open as in a house, and we ask ourselves to appreciate a local artisan syrup or bubbles of the Loire ... In winter, it will be full on the decoration.
Successful bet "I am proud because my whole life is closely linked to my hotel. It's a family business. Régis and Brigitte are constantly working on their "hotel house". When one is "paused", the other takes over. No worries, never a customer feels lost. On the contrary, he will have his tailor-made address book, or travel notes on the architecture and history of the city.
Tea Time
Pamper yourself in front of a cup of tea and a sweet note!
Near the window showcase, which gives life in as well as outside for the customers as for the passers-by!
We love the world map chandelier, toning armchairs.
We also come back for the whiskey bar (read on the guestbook). There are even some customers who book only for that ... Quite impressive, this collection of a hundred bottles. Privileged moment, exchanges, comments ... tasting and good mood, well settled in a Chesterfield sofa near the fireplace of the 15th. A private lounge.
More than a tradition. Régis and Brigitte keep on putting on end-of-year decorations in the manner of the northern countries. Everyone likes that.
If we could award a Loire Valley magazine prize, it would be a diploma of excellence for breakfast ... awarded as in the grandes écoles with fanfare and rigor. "Better than a breakfast ... take the time to test it ..."
We like the "served at the table", do not get up 36,000 times to go to the buffet. Everything is served by Regis in shirt sleeves "trendy" raised and presto, a whirlwind non stop to bring everything hot, including its famous pancakes. In the background, very Jazzy music.
Organic fresh dried fruits, all good.
Other small lounge. Portraits of the Audouin family (3 generations) signed by Frédéric Gallé
"I realized a child's dream! Learn music theory and everything and everything ... »
Horse sculptures by the artist Hrvoje Dumancic
The decoration yes, but not to please. Not a fashion phenomenon either. So how do they make it to the Saint-Pierre to have so many rewards on all the social networks? "We will never stop the decor". 2005 a meeting, followed by a friendship links them with a local interior designer, Thierry Lassure. One suggests, the other conceives. Bet won!
Priority to local artisans, everything is made in Saumur.
"My hotel is my home, I really like people to feel at home. If you have a professional appointment, put the alarm on the laptop, because really here, you may forget everything ...